Recycling your electrical items just became easier! You can now recycle your small electrical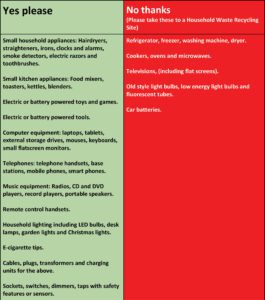 items on your waste or recycling collection day. Please place the items in a carrier bag and place them on top of either your black or green bin. Please do not place items inside your black or green bins.
If the electrical items won't fit into a carrier bag then it is too large to fit into the compartments on our collection vehicles and you should take it to a Household Waste and Recycling Site. Check the table below for examples of items you can present for collection.
Yes please:
Anything with a plug.

Anything battery operated.

Cables, plugs.

Only items that can fit in a standard size plastic carrier bag.

Batteries (if removable) in a separate bag please.



No thanks (Please take these to a Household Waste Recycling Site):
Items too big to fit in a standard size plastic carrier bag.

Traditional old style light bulbs, low energy light bulbs and fluorescent tubes.