Weald on the Field 2021 – a big thank you from the Town Clerk
Wow, what a day! Weald on the Field 2021 went ahead on Saturday (21 August) and a fantastic time was had by all even in the cloudy moments.
We would like to issue some thank yous as without the assistance and support of key organisations, suppliers and sponsors, the day would not have been able to go ahead within such a short timeframe. We usually start planning the event in the winter months for the following year, but 2021, saw Weald on the Field organised in about eight weeks, as we waited and deliberated on UK Government guidance.
First we must say a very big thank you to local events business Food Rocks who work with us every year to manage all the pitch bookings for the event. They also design and assist us with the marketing, which I'm sure you would agree always looks appealing, bright and colourful– just what we need during these cloudy skies! Thank you Food Rocks for your help and support, it's very much appreciated.
Then there's our key sponsors – without your business sponsorship, so many things on the day would have to be reconsidered. You make the event what it is – Uckfield Chamber of Commerce, Lawson Commercial, The Electric Bike Shop, Richard Green Funeral Services, EMC Group, Dukes Lettings, Happy me dance, Afrodite Hair & Beauty and CPJ Field thank you!
Our suppliers this year did a fabulous job of meeting our delivery timescales and helping to ensure the event went smoothly…my mobile phone was a hotline on Friday with your calls but it worked seamlessly. In alphabetical order, thank you to Airstream Stages, Biffa Waste Services, Belmont Centre, C. J. Thorne & Co, Gigloo Ltd, Luxfords Centre, Southern Events, Sussex Party Bales, Uckfield FM and Uckfield & District Lions for the hire or lending of your facilities.
Thank you to Network Rail, APCOA and Wealden District Council for removing any time limits or parking restrictions in Luxfords car park and the Station car park Saturday to enable our visitors to enjoy the event without having to worry about running back to the car.
To our stallholders who brightened up the day with their tasty street food, fantastic range of refreshments, and beautiful clothes, crafts and activities. We had a great mix of activities for the younger crowd this year and what a variety of stalls, thank you!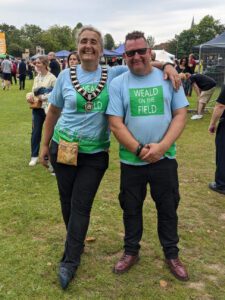 And what a great line up of music this year with Megan Tweed, Rick Bonner, The Management Duo, The Tar Babies and headline act, Into the Blue. I was singing, and dancing away, it was just lovely to see everyone enjoying themselves.
To volunteers of Brighter Uckfield who kept an eye on litter throughout the day – the field was spotless when we locked up Saturday night!
And a special thank you to AGB Event Services and Dragon Event Services who were with us from dawn until dusk to help set up and close down the event safely.
As you can see the event is a real team effort, and just highlights the fantastic community spirit in the town of Uckfield.
Shall we do it again?
All the best, until next year!
Town Clerk of Uckfield Town Council